Two important books. How I learnt about Collecting Paintings. Part 3

Only conversations with Z. Varnauskas did not lead me to the right place where I could find more works of art related to the history of Kaunas theatre. I need more information with names, addresses and phone numbers . And I found it. I bought two important books.
The first book "Artists of Kaunas" printed 2002 I found in a second hand book store. Unbelievable all names from A to Z with photo, short biography included Education, Work, Creation, Exhibitions, Artworks in Museums, Awards, Bibliography, Family, Workshop address, Home address, phone number.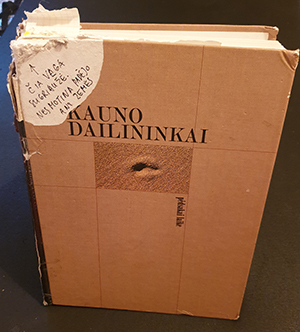 Another book I bought in Kaunas Branch of the Lithuanian Artists' Union. Here were names and addresses of all members of the Lithuanian Artists Union.
It was a good start for beginners. I knew the names, but now I needed history. I called Varnauskas, I needed a reason to visit him, and I said I would like to buy a few sketches of theatrical costumes. He will arrange to meet with me for next week. Reason was simple: he doesn't remember where sketches are… Here was another problem for me. Z. Varnauskas was not a cheap seller.
Once he told me the story: One day someone knocked on Varnauskas door. He didn't open the door, just asked who's there. The voice outside responded by naming surname. What do you want, asked Varnauskas. The voice outside shouted, I want to buy a painting for myself. How much money you have with you, asked Varnauskas. 500 Litas (about 125 USD) voice said. Go away, said Varnauskas, I don't go downstairs for this money. The next day someone knocked on the door again. Same questions, but the voice outside said they have 2000 Litas (about 500 USD). And Varnauskas went down stairs.
I think it was messaged to me: no cheap deals in this house. So I need some money for the beginning. I spent 500 USD when I met him after one week. The meeting was productive. Not only did I listen to the history, but now the story was based on examples that I could touch, look at. Here were about 40 theatre costume sketches on the table. We talked for a few hours, about theatre, about theatre artists. I tried to understand which sketches Varnauskas likes more. And which he likes less. Here were a few names. With respect Varnauskas told me about Galdikas and Dobuzhinsky. Without respect about some other Lithuanian artist and he totally dislikes the Russian artists.
There was one Gontcharova sketch and the other two were placed near on the floor because it was framed. I wanted to buy only Russian art. But my strategy intuitively told me to start negotiations differently. Also, I needed to somehow ask about other artists whose addresses I found in the book. I told him how much money I have. He told me back – take what you think you can take for this money. And then it started. I took some sketches of several Lithuanian artists. Varnauskas took it aside. Not for sale he replays. And it continues for about 20 minutes. I have a question, I said. What do you think about Labuckas?
Varnauskas looked at me and said: How do you know him? He died many years ago.
And we start to talk about him. Negotiations stopped for a while.
Varnauskas opinion about Labuckas was negative.
Poor quality artist, weak personality, in addition to the opinion, worked for both Germans and Russians. I got what I need from history, now time to go back to negotiations. If I will take these two framed pictures on the floor and one from here, will you add four Dobuzhinsky pencil drawings for this money. Plus two Dobuzhinsky and we have a deal -Varnauskas said. Here was the first deal for real money. Really here was the second deal, first I did with artist Zelinsky son, it was noted in part 1. But here I spend 100 USD for 4000 sketches. I paid Varnauskas 500 USD for five pieces of paper. I was all shaking. I just want to point out that at that time for one USD it was possible to have lunch for two in a restaurant.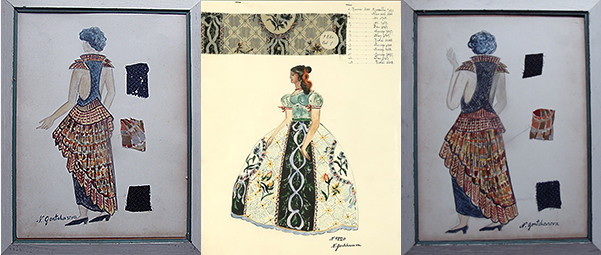 The next day I took the book, found a page about Labuckas and called by the phone number I found. The woman answered the phone. After a short conversation, we agreed to meet her at home. She lived in Vilijampole, (district in Kaunas) on Gostauto Street.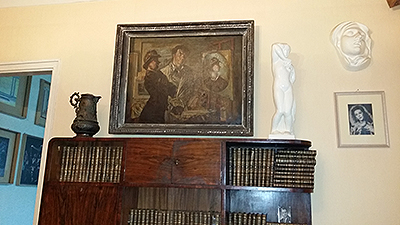 I was greeted by an intelligent woman of respectable age. Here was the Irena wife of artist Labuckas. She smokes cigarettes, invited let me into the guest room. She looked great, the aristocratic manners further strengthened the impression. She was 84. Bright mind, very good memory, classically Lithuanian speech. She was a ballet dancer when she met Labuckas in the theatre. She knew all about theatre. I saw lots of paintings in the other rooms, but she didn't want to let me have a look (only after a few years she let me see it). I asked if she had something for sale. I have a look – she said, please wait here.
Here was a success, when she came back. Ten costume designs, stamped Kaunas State Theatre on the back side. Here were two designs by A. Galdikas, six designs by Dobuzhinsky and two N. Gontcharova. (Maybe someone is still remembering. I sold it when I started online sales). We have a deal of 100 Litas for the lot. (25 USD). So I found another point where I became a regular visitor.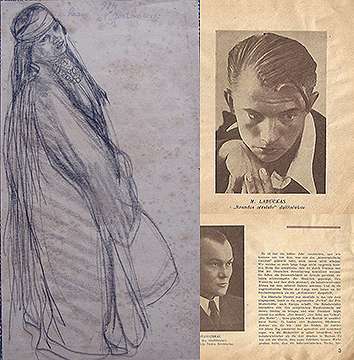 Mykolas Labuckas ((1912 Utena – 1998 Kaunas)
1941 graduated from the Kaunas State Institute of Applied and Decorative Art. Acquired the qualifications of Mural Painter and Stage Designer. For many years worked as a senior artist at the Kaunas State Drama Theatre, Lithuanian State Opera and Ballet Theatre, Kaunas State Musical Theatre. Member of Lithuanian Artists Association since 1946. Participant of exhibitions since 1965. Created decorations and costumes for more than 80 stage performances. Had the nice art collection, but kept it in secret.
I was the first person (except Labuckas family and friends) who saw it. Basically Irena Labuckiene sold out the main part of the collection to me. It continued for about 3 years. She kept only her husband's artworks and one oil painting by V. Kasiulis (you can see it in the photo from the guest room). I had a client who wanted to buy this painting in 2005. The offer was 50000 Litas (about 17800 USD) . She didn't agree and did not allow me to invite any persons to this house. I gave my word and never any strangers visited this house.
Continued in part 4