Still looking for the treasure? Lets go to Latvia! Are you ready to go to Belarus to get more adventures…. Part 14.
I went back to continue: I wanted to find Fridman's house which was visited by me many years ago. As I wrote before, Mr. Beleckas took me to those homes. But after 12 years I have not found anything there. The house was renovated and there were only expensive flats. One man recommended me to meet an employee who had a job in Riga privatization council. He was retired. I paid him and he went to the old dating address where he moved his family from flat 5.I visited them and I told them about what I was looking for, paintings which I saw many years ago. They told me what main part of the collection they returned back to Alexander son who lived in France, Paris. But he left some here, for loyalty to Fridmans family. ( I will back to this later)
All goes interesting, but the best happens when I see a small bookstore when walking in the old town. It was in the basement in a closed yard. One room was filled up with old books and between the books in the corner was placed a bunch of theatre designs. Mostly there were paintings of costumes designs and theatre set designs on cardboard and paper. The old woman managed this store. When I asked what it is? Woman said this painting belongs to someone who wants to sell it. I had a look at what is in this. Main part was signed Liberts, but there were a lot of Russians sketches too. It was very interesting. I started to talk., but the woman didn't want to speak too much. She said what here is a famous artist' Liberts art collection estate. All paintings were created before the second war. The prices were not friendly. for one costume design she asked 100 Lats, for set design large size 400 Lats. 1 lats was much more when 1 British pound. I asked – can I do the offer. Then I said I can take 2 costume designs and pay 80 Lats for each. She said she needs to call. She called someone. And then said OK. When I bought it she started to talk. She showed me another room where there were oil paintings only. There were a lot Liberts works and again there were Russian oil paintings too. I came back to Lithuania. I went to Ciurlionis museum the next day. And I asked to help recognize who did his paintings. I paid some money for it and left it in a museum to do expertise. After one week I got a call from the museum and they said they got results. Museum experts said that it was sent pictures to Russian Museum in Moscow. And they got documents where they were confirmed: one sketch was done by Anisfield and another one by Gontcharova.
I learned about Ludolf Liberts. He was active in Kaunas State theatre before WWII.
Ludolf Liberts (1895 – 1959)
Born in Tirza, Cesis County , April 3, 1895, in the family of a manor servant. In 1907, he and his family moved to Tornakalns in Riga . The first impressions of art were made by the painter Voldemārs Zeltins . He studied at the Yulia Madernieki studio , the Sculpture Department of the Stroganov School of Art in Moscow (1911-1912) and the Kazan School of Art (1912-1915), while working as a decorator at the Kazan Opera (1913-1914).
During World War I he graduated from the Alexander Military School in 1916, served as an officer on the Polish front and was captured in Germany . He returned to Latvia in 1921. Worked in Ho Ho (1922-1924). He worked as a decorator and director of the Latvian National Opera (1924-1937), a director of the State Printing House and Mint (1935-1940; 1941-1944), as well as an educator at the Latvian Academy of Art (1923-1932) and a director of the figurative painting workshop (1942-1944). ). He was a guest scenographer at the theaters of Helsinki , Kaunas , Vilnius , Malmö , Zagreb and Sofia .
During the Second World War , in 1944, he went as a refugee to Austria , then to Germany, where he worked at the Latvian Art School in Esslingen . In 1950, he emigrated to the United States , where he taught painting at New York City College.
Died March 11, 1959 in New York.
So I got authenticity papers from the museum. Next step I needed to get the money. I called one art collector who was based in Vilnius, and told me about paintings I have with confirmation of Russian museum. He paid me 10000 Litas for it, so I got 2000 Lats in the bank. 4 banknotes 500 each. It was not really funny when I came back to Latvia. Just want to describe the day. I am traveling by car to Riga. It was a real winter, – 20 (Celsius degrees). Snow two meters deep. Announcing on the Latvia radio: "good morning, we have a real winter today, nice sunny day with minus twenty degrees outside, snow dropping just stopped in the minute and we see a lot of bicycles on the road, unbelievable". It was real, I drove my Jeep, with winter tyres and 4 driven wheels, I went through the snow mountains. But there were a lot of bicycles around who successfully did the same on the road. I love the real winter. It is a real feeling.
It is difficult to describe what you can do with four banknotes of 500 Lats at 7 o'clock in the morning in Riga. It was not popular to use bank cards in those times. We needed the cash. The first thing I needed when I came to the city was natural needs. It is normal to visit the toilet after a few hours' drive. They said no, when I visited the first opened coffee shop that morning. You need to pay for it. I gave him a banknote 500 Lats. He said this banknote is not accepted because here is a two month wage. I ran to another coffee shop, where people were smarter, here was an east asian restaurant. They said, I will do my best if I order at least 20 Lats. Yes I did, and got the change 480 Lats. It was not funny at 7 AM.
Now I will make a short announcement: It is not possible to describe what I got here in this book store. It cost me years and a lot of money. Just have a look in the pictures, and I will come back soon….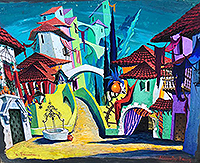 Here just few images of paintings I bought in Riga.
Whereas the history of Riga and finding contacts in Belarus is long enough, but actions in Lithuania are not less important. So I decided to put everything in a few next articles.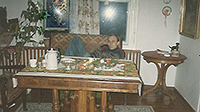 Will be continued…