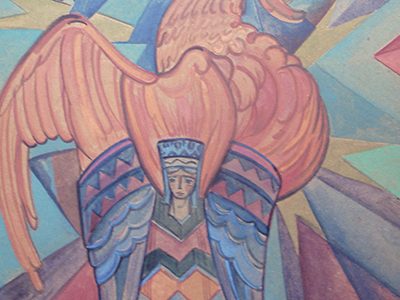 Rare Article: N. Gontcharova in Kaunas. My search continued in Riga (Latvia). Part 13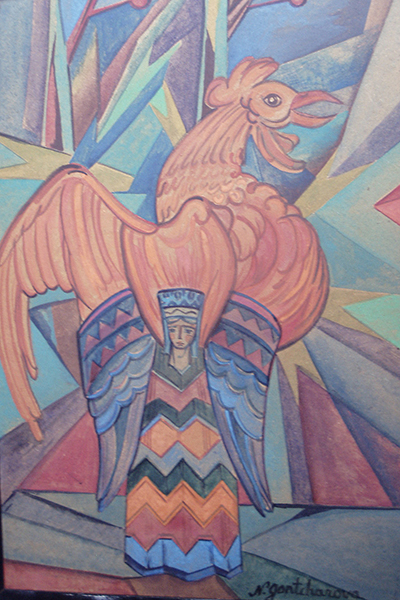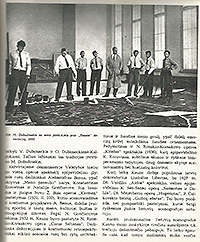 The famous Russian artists designed a series of performances in Kaunas in the 1930s. Alexander Benua (a particularly active member of the "art world"), Konstantin Korovin and Natalia Gontcharova. Particularly mature was the production of G. Bizet's opera Carmen in 1931. Also famous was the production of N. Rimsky-Korsakov's opera Tsar Sultan in 1932. In the decorations and costumes, the artist N. Gontcharova has retrospectively recreated the style of old Russian and Eastern architecture.Also important and N. Rimsky-Korsakov's opera "Kitezh" in 1936. The performance was designed by the painter Konstantin Korovin with a subtle taste and bright temperament, who will pay a lot of attention to the scenery and the color of the costume. The popular Latvian scenographer Ludolf Liberts (between 1927 and 1936) also worked in Kaunas for some time.
This information is based on the data of the Institute of History of the Lithuanian SSR Academy of Sciences. Scientific articles at the time were based on facts. I do not understand one thing why this information was never published in the Russian press. It is clear that Russia has denied the creation of Russian emigrants, and any of their participation in cultural activities. I found one sentence in one book in English language when I was in British Library a few days ago.: "N. Gontcharova made some stage designs in Kaunas in the third decade of XX century". Looks like, when she left Russia she didn't do anything. Moved to Paris 1921 and then lived 41 years abroad. For some reason all information is based only on Russians articles. Before that, the articles I found in the Kaunas periodical press in 1936, one Russian art scholar in Moscow, described it as capitalist propaganda.
Some stories led me to travel to Latvia. Riga is about 270 kilometers from Kaunas. I really liked this city. With unique, attractive architecture, here you can walk for hours upon hours. The old town is beautiful and tidy, the buildings here date back to the early 16th century. But the most beautiful architecture was in the new town which dates back to 1900 – 1920. The unique Art Nouveau and Secession buildings were quite abandoned. But I went everywhere, the stairs in the buildings were unrepeatable, the apartments were completely untouched by the era. Sometimes people would ask me what I was doing here, I would say that I love this architectural style and the situation that it never touched any restoration, the people start inviting me to guests to look inside. It was unique.
The man who showed me what is going on in the collecting world in Riga, is now very difficult to describe. It is difficult because the story of this man is complicated enough. Not my business to judge, but the fact is that this man with the passion for collecting the art "got down ". As I said, not my business to judge, the court did it. But here I want to describe the bright sides of this person. This man had and still has a unique, phenomenal sense of what needs to buy. Also he still has a unique photographic memory, he can easily tell where any artwork is hung in any collector house he has visited. Doesn't matter how long he has not been there ten years or twenty. I don't want to name him by surname, just I call this person by name. Vladas was very active in the art world around East Europe. Had contacts in Russia, Latvia and everywhere he was going. You should contact this person to learn more. The stories are truly unique and mesmerizing. It wouldn't be easy, but if someone succeeds, I think he'd be happy to tell you a lot about it.
During one visit to Riga, Vlad promised to introduce me to several old-generation art collectors.
Vlad valued luxury art as he called it "manor affairs" in Russian. He lived like a king. It impressed people. Everyone wants to live like a king. He easily dated and appreciated the value of ancient art. XX century art wasn't popular. Especially art after 1920. And Vlad showed me one house at 55 Stabu Street (Stabu Street). As he described it, there are a lot of terrible paintings on the walls, but we can have a look. It was Fridman house…
This meeting was a long time ago, just later I started buying and collecting paintings. The prehistory of Riga was important because I already knew where to go in Latvia first. I did some research before going to Riga. First I found the address of the Latvian Artists' Union, some other names mentioned to me by collectors in Lithuania. The trip was a trip and, as it turned out, it wasn't easy to find anything at first.The Latvian Artists' Union has stated that there are no books on current or former artists, the database is somewhere in the archives and it is certainly not accessible to the public.When I came  to the house on Stabu Street, I found that the building had been privatized and the residents were evicted. The process of privatization in Latvia will be described by me in other articles, then it will be possible to understand how difficult it was to find the people I needed. So the day in Riga became a simple walk around this wonderful city. I went to the museum, visited several exhibitions, visited several antique shops. In one I found out about a school where collectors' meetings take place once a month, in another store the host told me about the privatization process that took place in Latvia. As it turned out, he was Lithuanian and lived in Latvia all his life. It wasn't hard to talk. And my last discovery that day was a small bookstore in the old town courtyard. It was a real discovery that would require a separate article. I kept coming here later with every visit to Riga.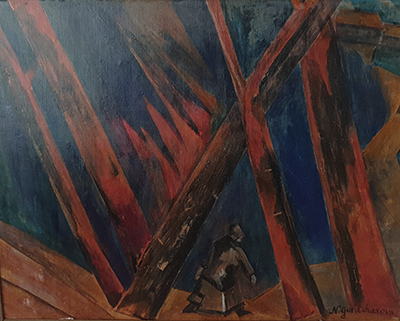 Will be continued….